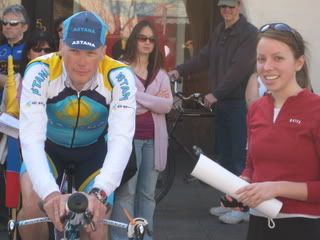 We are pleased to welcome Annie to the team! (Annie is the one in red on the right..)
Annie Fulton
Age: 23
From: Palo Alto, CA
Sporting Background: I was a gymnast for 14 years, but picked up cycling in college. I was mainly a recreational rider for 3 years, touring in France, Switzerland, and Italy in the summers. I was also VP for the Bates College Cycling team, where I got a taste for racing. I made the big jump to racing summer 2008 when I joined Webcor/Alto Velo and have loved every second of it!
Recent Results: 2nd at Cherry Pie Criterium, 2nd at San Jose Cycling Classic Criterium, 1st at Snelling Road Race
2009 Goals: Work towards upgrading to Cat2, begin time trialing, and promote the Webcor/Alto Bridge Team presented by Sportvelo!
http://anniefulton.wordpress.com/